South Australian Painting Workshop 20 April - 1 May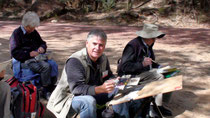 Following a tour through the Adelaide State Gallery to see the Turner Exhibition we headed north with a 'wash of watercolourists' to paint in the Flinders Ranges. Staying in the Wilpena Pound and the weather is close to perfect.
For more details on Malcolm's Watercolour Classes click here
New Workshop @ Grafton in September 2020
A Five Day Workshop on September 22-@26 2013
News on Recent Travels
En Plein air Painting Workshop in Kiama NSW 9-12 February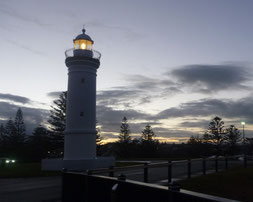 Kiama is a well kept secret, a small coastal town 2 hours south of Sydney with a famous blowhole in the rocks near the lighthouse. 
Kiama is famous for its blowhole. Nearby is the Pilot's Cottage Museum which tells the story of Kiama's colourful past. A very pleasant place to spend painting, sharing with good friends and enjoying fine fare.
Mitchell Summer School, Bathurst, 13-19 January 2013
Bathurst is a world of painters twice yearly with The Artscenes' Mitchell College of Art. Over 250 artists meet up with over 28 tutors for a week not just painting but with much fun and extra curricular activity. This year we travelled out to the old historic gold town, Hill End to continue plein air painting of a favourite place much painted by many well known artists. 
Sturt Summer School, Mittagong NSW 2-7 January 2013
Sturt Gallery in Mittagong is the oldest School of Art & Craft in Australia and twice a year they hold a Summer and Winter School. As the only watercolourist it was again a full class of 14 of the nicest people and a thoroughly enjoyable week mostly painting around the school of Frensham next door th the Gallery and Cafe.The exceptional thing about Sturt is the top notch variety of other artists in all fields. I did a demonstration in Clubbe Hall on Saturday evening to a great crowd. There wasn't much on TV!
Central Coast NSW
I January 2013
During the Christmas break spent time sketching around Woy Woy on the Central Coast just north of Sydney... just peaceful with prawn trawler asleep at the pier Photos convey light for future inspiration in painting.
Early sunrise on Empire Bay on Brisbane Water